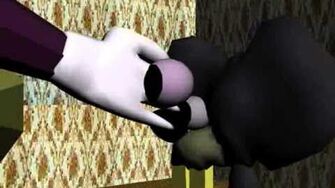 is an episode of Mouse Tails. It was uploaded on 8th February 2011.It is proceeded by 
Mouse tails: BEE attack !
.
The episode starts with Magic Mouse returning home from prison. Mouse Tails happily greets Magic Mouse. Mouse Tails then gets scared when Magic Mouse lifts his hand towards Mouse Tails' eye. Magic Mouse brutally mutilates Mouse Tails by removing his eye. At the end it is revealed that it was all a dream [1].
References
Edit