Mr Bread is the mayor of an unspecified location in Tyksrr.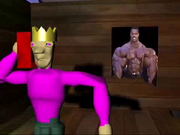 Characteristics
Edit
He wears a pink shirt and a crown. He lives in The Mayor's house.
In mouse tails: BEE attack!, Mr Bread told Mouse Tails that the city was under attack from bees. In Snospis Eht: Marge's Story Time, Mr Bread taught Lisa "how to be a lady", which involved taking off her clothes and letting the mayor ride her.
Apperances
Edit
See also
Edit
References
Edit