Snospis Eht: Christmas Special: Part 2 is the thirteenth video of andywilson92's "Snospis Eht" series. It is preceded by Snospis Eht: Christmas Special: Part 01, and followed by Snospis Eht: Christmas Special: Part 03. It was uploaded on 17th December 2011.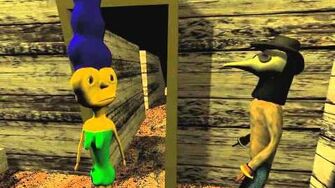 Marge stumbles into Maggie's room, before getting herself back on her feet. She greets Maggie, who mumbles and grunts about and plays a shooter video-game. Irritated by Marge's comments about Maggie's game, Maggie throws the controller to the floor, causing the lights in her room to malfunction. Maggie then gets up and throws down a wreath, and Marge leaves her room.
Marge realizes that it is 2 A.M., and she goes to her room to place antlers on her hair, disguising herself as Mantra Claus. She drinks from a bottle of Smirnoff and throws it to the ground, and rubs another bottle on the table to the edge. Marge walks out of the house and climbs up to the roof, carrying a block of the chimney and falling down, causing the roof to collapse.
Derpy Hooves can be briefly seen, flying through the Snospis House at 2:09.
Mr. Hitler can be seen, peeking at Marge from the roof at 2:16.