Snospis Eht: Little Marge is the eighth episode of andywilson92's "Snospis Eht" series. It is preceded by Snospis Eht: "Its about Horses Lisa!", and is followed by Snospis eht: sickbart part 1: coffee run.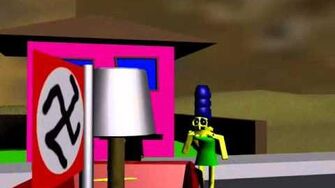 Just outside their house, Marge's mother tells her that it is time to go to school, which Marge agrees. She tells Marge to remember her bag of crap, and Marge crosses the road outside her house.
She notices Mr. Hitler, a red trailer, appearing behind her. Mr. Hitler drops his head for a while, and moves towards the Snospis House. He talks with Marge's mother. Marge then says that she loves Mr. Hitler, and rides on his back. Marge's mother explains to her about Mr. Hitler, as being "the man who ruled a great country and united Germany." Or "The man who ruled our great country of nazi Germany." The next scenes depict Marge at her backyard, before being a slave at the Coca-Cola factory, and then a crudely-drawn face.
Back in the present day, Homer and Marge were resting at the bus station. Marge awakens, and Lisa asks her on whether she was having good dreams again, of which Marge asks on whether she is at the bus station. Lisa tells the viewers: "You were wondering what we are doing at the bus station. All will be revealed. Be prepared for the story of the downfall of the Snospis Family. To be continued."
The credits then roll with Whiskey in the Jar playing in the background.
The music that plays at the beginning and at 0:28 to 0:32 is the theme for Viridian City, Pewter City, and Saffron City from the video-games "Pokemon Red" and "Pokemon Blue" played with a piano.
The song that plays as Mr. Hitler's theme and at the ending credits is a slowed-down version of Thin Lizzy's "Whiskey in the Jar".
The song that plays from 2:04 to 2:08 is a distorted edit of the theme for Lavender Town in the video-games "Pokemon Red" and "Pokemon Blue".
The story continues (as a flashback) at Snospis Eht: Little Marge: Part 02.
Andywilson92 said in the description that he recorded the dialogue 18 months before it was uploaded to YouTube, meaning that it was recorded in January 2010.
Andywilson92 also said that he planned to animate this in flash, but switched to 3D animation instead.