is an episode in andywilson92's "Snopsis Eht" series. It is preceded by Snospis Eht: Little Marge:Part 03 and is followed by Snospis Eht: Ned.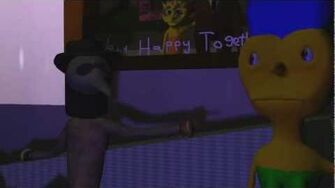 In the kitchen of the Snospis House, Marge emerges from a fridge, and looks around. She reads a note on the fridge about Bart's attendance at Mouse Tails Camp for the summer, and angrily states that Lisa has left her for Mantra Claus.
Maggie enters the kitchen and sits on a table. Marge mentions to her that they are the only people in the Snospis House, and Maggie daydreams of herself knocking Marge's head with a teapot and raping her. They watch "Mouse Tails" together at the basement. Marge notices Maggie's "HorseFuckers Monthly" magazine, and tells her that they will go out to buy horsemeat. They board a train from the Snospis Family's Station behind their house.
External links
Edit