Teapotsenman: Jesus Does'nt Like You
is the 21st episode of Andywilson92's Snospis Eht. 
Snospis Eht: Dreams Again
 and is followed by
Snospis Eht: Snowman
.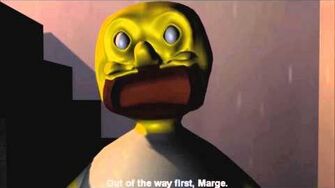 In the intro for the Good Captain's Learning Games, a horse growls extremely loudly, then a man with an orange face opens his mouth and The Good Captain then starts chewing his pipe and shouting gibberish, then fades out to black.
Marge, heavily intoxicated, says that she is sick of Homer and Lisa, and that she wants to put a stove in the basement. Lisa reminds Marge that she is drunk, and asks her to stop what she is doing, because putting a stove in the basement is a bad idea because it is a fire hazard. Homer informs Marge that if she wants to install a stove in the basement, she must move the newspaper stacks. Homer offers Marge some coffee, but Marge turns down his offer with extreme disgust, because she hates coffee. 
Lisa's rational thinking is ignored, and Marge puts a stove in the basement anyway. This causes the basement to burst out in flames. Lisa is naked and defecating on the floor. Marge is dancing in the flames next to the newspaper stacks, singing a gibberish song. 
The episode draws to a close with Teapotsenman and Potsandpots having a conversation.
Teapotsenman greets the audience and asks their names. Potsandpots, thinking that Teapotsenman is talking to him, replies that Teapotsenman has known him for a long time, and that they are playing video games. Potsandpots also says talks about the new house that they have moved into, to which Teapotsenman replies "Jesus doesn't like you, Potsandpots!"
At the end, there is a split second clip that says "The Jesusman does not sleep in iron bridges."