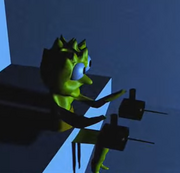 A 
video game
is an electronic game that involves human or animal interaction.
In Snospis eht short., Lisa decided to play video games instead of going to work.
In Snospis Eht: Sick Bart part 2: A trip to the Seaside., Lisa and Bart play a video game.
In Snospis Eht: Christmas Special: Part 02, Maggie is seen playing loud video games in her bedroom. When Marge suggests that Maggie should play a normal video game, Maggie becomes angry and rips a Christmas wreath off the wall in frustration.
In TeaPotSenMan: 01: Retro Video Games Club, Teapotsenman and Potsandpots discuss video games.
In TeaPotSenMan episode: 02, Potsandpots becomes angry with Teapotsenman, as he wants to LARP, but Teapotsenman is too busy playing video games.
In A Christmas Carol, Scrooge is seen playing video games at the beginning of the episode.
In Teapotsenman: Jesus Does'nt Like You, Teapotsenman and Potsandpots are seen with joysticks, indicating that they are playing video games.
List of video games
Edit
World of Warcraft
Call of Duty
Appearances
Edit